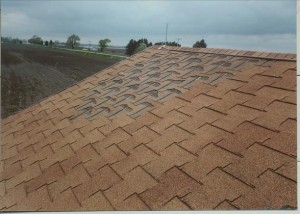 A discontinued roofing product called "T-LOCK" currently covers thousands of Colorado homes. Your home may have this roofing system – it has a very distinctive look and pattern to it. The T-Lock roofing material is no longer manufactured and is not available for repairs.  If your home has this system and you have any damage… it can't be repaired.  Since it can't be repaired, we've been successful helping many home owners' secure complete new roofs through their insurance companies. Colorado Roofing and Construction is experienced at helping homeowners with T-Lock product. The amount of Hail Damage required qualifying for a new roof is minimal due to the nature of the situation with T-Locks.
A brief history on T-Lock…
T-lock shingles have fallen from common use in recent years. They were configured to self-lock into each other using lateral tabs and slots, like a 3-tab with ears that could be inserted behind the tab to either side. T-Locks have been widely believed to be more wind-resistant than seal-down shingles because of the overlap system, but they are frequently assigned the same tested wind-resistance rating as a 3-tab or architectural shingle of the same warranty period.
Three reasons T-Lock shingles are no longer made:
Time consuming installation.
Appearance
Cost
Home inspectors for insurance underwriters are being instructed to report the presence of T-Lock shingles as a major insurance hazard. Some companies may cancel or deny coverage if this type of shingle exists on the roof.  Therefore, having this roofing type could make selling your home difficult.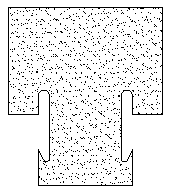 T-LOCK SHINGLES
What you see is the basic look of a T-Lock shingle. Often this system is installed in high wind areas because of their wind resistance.
They were installed in certain areas of the country and have been discontinued.
 The following drawing shows the distinctive "T-Lock look" like without the hidden lines.
* REPLACEMENT is subject to your insurance policy deductible and claim approval.  Let our roofing experts advocate for you.